Trace heating is used to heat pipes, pipelines, containers and drums. It keeps them frost-free and makes sure that the medium flowing through them is kept at the required temperature. One advantage of trace heating systems is their exceptional flexibility, as they can be individually adapted to the conditions wherever they are being used. They are used among others in industry, pipework construction and for the heating of guttering.

DEW heating element calculator
With the DEW heating element calculator you can comfortably calculate important values for the heating element you are looking for. Determine, for example, the power required to warm up a substance with a specific mass from temperature T1 to T2 in a certain time.
Select the value that you want to calculate, enter all values and click "Calculate":












Effective prevention of frost damage

Extremely flexible and adaptable


Design
At the heart of our trace heating systems are fixed-resistance heating cables – insulated single-core plastic lines with a defined specific resistance per meter. The self-regulating heating tapes consist of several insulation layers and a special plastic semiconductor element. Carbon particles between the two current-carrying conductors form a temperature-dependent current path between the two conductors. The third element consists of heating pads made of textile materials, including heat conductors. With the aid of tailor-made solutions, these can be accurately and snugly fitted onto the object that is to be heated.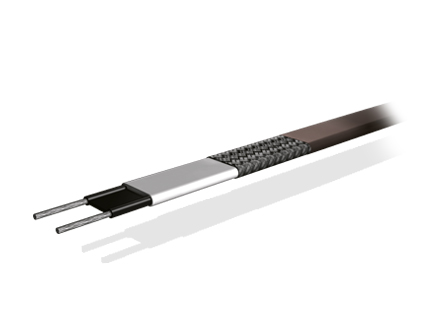 Installation information / temperature control
Trace heating is installed parallel along the pipes. It is fastened preferably with temperature-resistant self-adhesive aluminium tape to enable optimum heat transfer. We recommend using a thermostat with the self-regulating heating tapes. For technical reasons the power output will never drop to 0 W.