Screw-in heaters from DEW are the most effective way to heat gaseous and liquid media directly – including in hot water storage tanks and heating boilers. All the important parameters like the installation length, power output and the type of medium that is to be heated can be individually specified. We always carry the standard types at our warehouse to ensure fast delivery times. On request we can also fit the non-insulated screw-in heaters with a special thermostat in a protective cap.

DEW heating element calculator
With the DEW heating element calculator you can comfortably calculate important values for the heating element you are looking for. Determine, for example, the power required to warm up a substance with a specific mass from temperature T1 to T2 in a certain time.
Select the value that you want to calculate, enter all values and click "Calculate":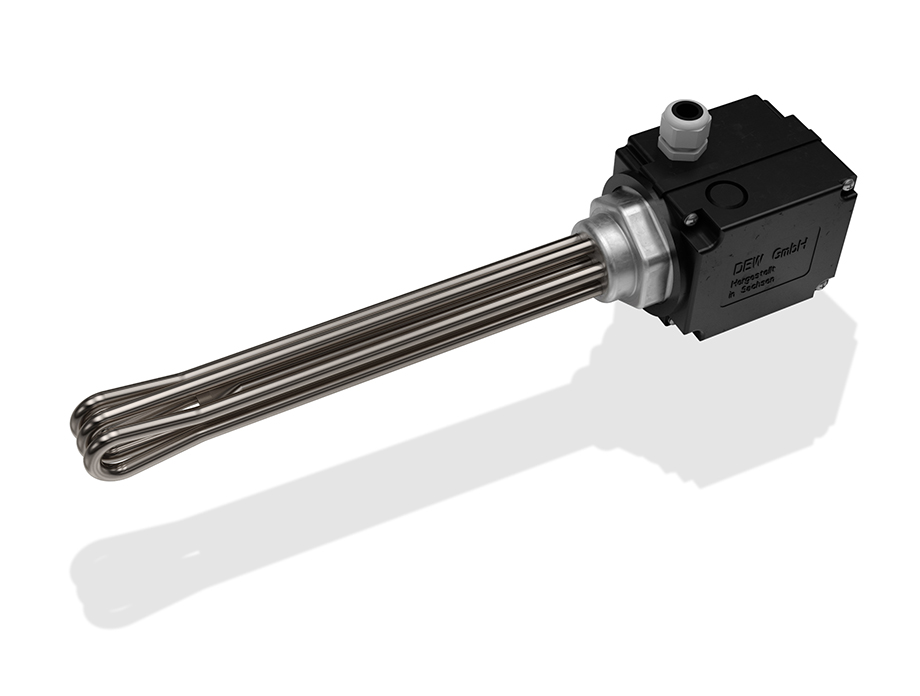 Pipe material: Copper and various types of stainless steel – Screw fitting material: Stainless steel or brass

Thread sizes: from 1" to 2½" as parallel, conical or NPT threads

Immersion depths: up to 3,000 mm

Power output: up to 20 kW available






With or without thermostat

Optionally fitted with IP54 protective cap made of metal or plastic


Design
At DEW, electric screw-in heaters are normally manufactured with a screw fitting made of stainless steel or brass and a G1½" thread. Other thread sizes between G1" and G2½" as well as conical or NPT threads can also be supplied. Depending on the application, we use either copper or different types of stainless steel as the pipe material for the screw-in heaters. The electrical connections can be fitted with an IP54 protective cap.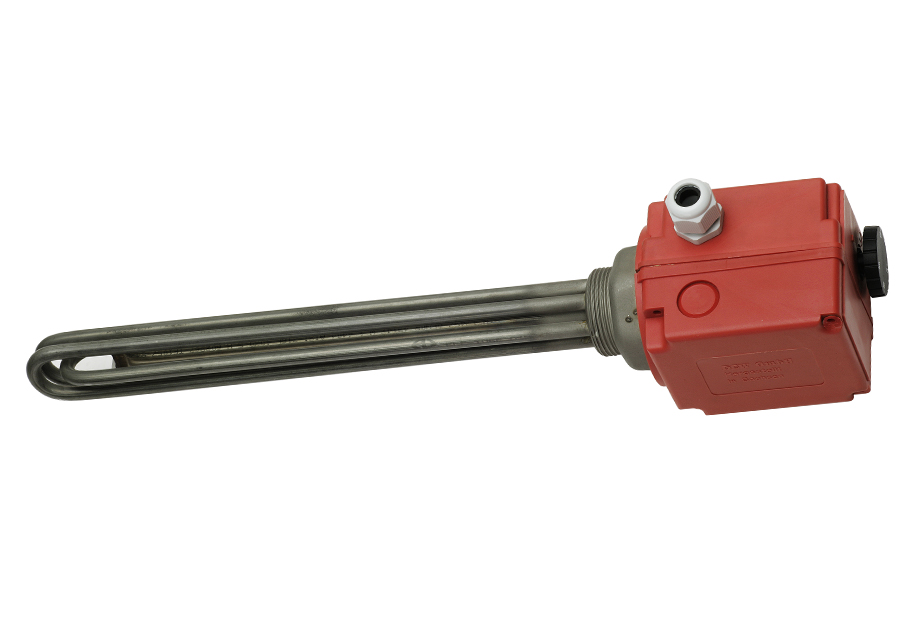 Installation information / temperature control
Our screw-in heaters can be installed both horizontally and vertically. In the process, it is important to note that the screw-in heater must always be completely covered with medium. If required, we can also supply the heating element with an installed thermostat with different measurement ranges. The variants listed below are ready to ship from the warehouse, but special measurement ranges can also be supplied on request.
Control range from 30 – 85 °C / temperature limited to 110 °C
Control range from 30 – 95 °C / temperature limited to 120 °C
Control range from 25 – 70 °C / temperature limited to 98 °C