Screw-in heaters from DEW are the most effective way to heat gaseous and liquid media directly – including in hot water storage tanks and heating boilers. All the important parameters like the installation length, power output and the material are already specified in an extensive product range.
Our CEL screw-in heaters are standard types, which are always in stock at our warehouse to ensure delivery at short notice. Due to our large range, you can either choose between screw-in heaters without control, only with limiter, only with controller or with both controller and limiter.
DEW heating element calculator
With the DEW heating element calculator you can comfortably calculate important values for the heating element you are looking for. Determine, for example, the power required to warm up a substance with a specific mass from temperature T1 to T2 in a certain time.
Select the value that you want to calculate, enter all values and click "Calculate":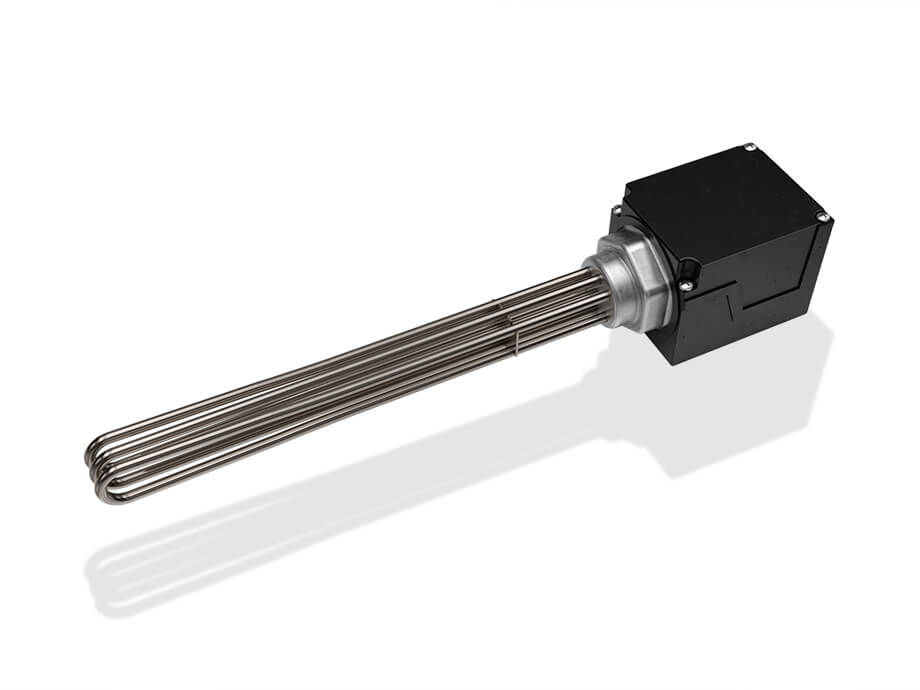 Pipe and screw fitting material: stainless steel

Thread sizes: 1 1⁄2″

Immersion depth: up to 885 mm







With or without thermostat

Optionally fitted with IP54 protective cap made of metal or plastic


Design
At DEW, electric screw-in heaters are manufactured with a screw fitting made of stainless steel and a G1½" thread. We use different types of stainless steel as the pipe material for the screw-in heaters. The electrical connections can be fitted with an IP54 protective cap.
Installation information / Temperature control
CEL screw-in heaters can be installed both horizontally and vertically. Make sure that the screw-in heater is always completely covered with medium. If required, we can also supply the heating element with a built-in thermostat with different control ranges. The variants listed below are ready to ship from the warehouse.
Temperature limited to 170 °C
Control range 29 °C – 100 °C
Control range 25 °C – 70 °C / temperature limited to 98 °C
Without controller or limiter

Here you will find a list of former Conti products with new DEW numbers. Smaller quantities are in stock. If you have any questions about this, please feel free to get in touch.
| | | |
| --- | --- | --- |
| CONTI | Article number | Technical data |
| CEL503 | 5E885AA30OK | 230V 3000W 1.4404 885mm |
| CEL505 | 5E400AA30OK | 230V 3000W 1.4404 400mm |
| CEL507 | 5E800AA60OK | 230V 6000W 1.4404 800 mm |
| CEL514 | 5E885AA90OK | 230V 9000W 1.4404 885 mm |
| CEL601 | 5E175AE20OK | 230V 2000W 2.4858 175 mm |
| CEL602 | 5E235AE30OK | 230V 3000W 2.4858 235 mm |
| CEL603 | 5E335AE45OK | 230V 4500W 2.4858 335 mm |
| CEL604 | 5E435AE60OK | 230V 6000W 2.4858 435 mm |
| CEL605 | 5E525AE75OK | 230V 7500W 2.4858 525 mm |
| CEL606 | 5E625AE90OK | 230V 9000W 2.4858 625 mm |
| CEL611 | 5E175AE20B | 400V 2000W 2.4858 175 mm |
| CEL612 | 5E235AE30B | 400V 3000W 2.4858 235 mm |
| CEL613 | 5E335AE45B | 400V 4500W 2.4858 335 mm |
| CEL614 | 5E435AE60B | 400V 6000W 2.4858 435 mm |
| CEL615 | 5E525AE75B | 400V 7500W 2.4858 525 mm |
| CEL616 | 5E625AE90B | 400V 9000W 2.4858 625 mm |
| CEL621 | 5E175AE20R | 400V 2000W 2.4858 175 mm |
| CEL622 | 5E235AE30R | 400V 3000W 2.4858 235 mm |
| CEL623 | 5E335AE45R | 400V 4500W 2.4858 335 mm |
| CEL624 | 5E435AE60R | 400V 6000W 2.4858 435 mm |
| CEL625 | 5E525AE75R | 400V 7500W 2.4858 525 mm |
| CEL626 | 5E625AE90R | 400V 9000W 2.4858 625 mm |
| CEL627 | 5E175AE20B/2PG | 400V 2000W 2.4858 175 mm |
| CEL628 | 5E235AE30R/2PG | 400V 3000W 2.4858 235 mm |
| CEL631 | 5E335AE20RB | 230V 2000W 2.4858 335 mm |
| CEL632 | 5E335AE30RB | 400V 3000W 2.4858 335 mm |
| CEL633 | 5E400AE45RB | 400V 4500W 2.4858 400 mm |
| CEL634 | 5E500AE60RB | 400V 6000W 2.4858 500 mm |
| CEL635 | 5E600AE75RB | 400V 7500W 2.4858 600 mm |
| CEL636 | 5E700AE90RB | 400V 9000W 2.4858 700 mm |
| CEL701 | 5E435AE10OK | 230V 1000W 2.4858 435 mm |
| CEL702 | 5E795AE15OK | 230V 1500W 2.4858 795 mm |
| CEL940 | ZMA1821 | Cap incl. accessories |