Non-insulated flange heaters are the ideal solution wherever high energy density is required in smallest spaces. Here, the field of application ranges from small steam generators to large industrial plants. Among the largest customer groups for DEW are industrial plant manufacturers.

DEW heating element calculator
With the DEW heating element calculator you can comfortably calculate important values for the heating element you are looking for. Determine, for example, the power required to warm up a substance with a specific mass from temperature T1 to T2 in a certain time.
Select the value that you want to calculate, enter all values and click "Calculate":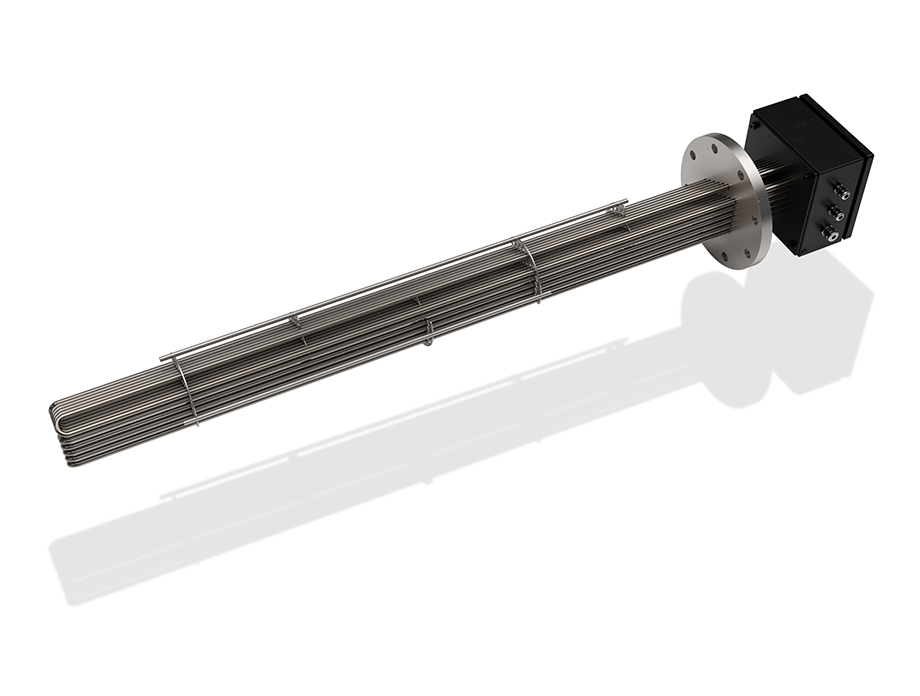 Installation length: up to approx. 2,500 mm (larger sizes in planning, please ask for more information)




Power: up to 800,000 W or 800 kW

Dimensions: DN25 – DN300 (larger sizes in planning, please ask for more information)

Voltage: up to 690 V

Standards: ANSI/DIN or special flanges

Pressure: up to PN40


Application: Gas, water, oil



Design
The shaped, densely compacted heating elements are welded or brazed into the flanges, or they can be screwed in. The dimensions of the flanges are chosen by the customers based on the requirements. We can supply classic DIN and ANSI flanges or manufacture made-to-measure custom orders.
When it comes to the material for the flange, DEW customers can choose between steel and various stainless steel alloys. The deciding factor here is what type of medium is to be heated. Once they have been joined together, the assemblies are leak-tested in our own pressure vessel (DN250, maximum pressure 50 bar). On instantaneous heaters with larger nominal diameters, the assemblies are tested in the corresponding pressure vessel. The electrical contacts are made in a connecting housing that meets at least the requirements of IP54. Depending on the customer requirements, the required power output can be wired in different stages.
Installation information / temperature control
The tubular heaters must be completely covered by the medium that is to be heated. The overall system must be separately protected so that the liquids cannot run dry and against overheating and/or overpressure. Due to the high power ratings, it is absolutely essential that the units are regulated by means of the integrated thermostats and that adequate safety elements are provided for the overall system.